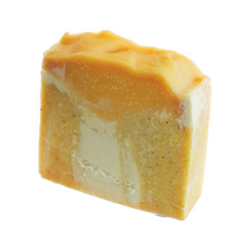 Experience the radiance of a flawless complexion and a natural glow with Tiffany's Turmeric Soap. Our artisanal soap is the key to achieving the best of both worlds – luxurious skincare and a subtle, alluring fragrance that captivates the senses.
Crafted with care, our unique soap formula combines the skin-loving benefits of stabilizing turmeric with natural ingredients like Olive Oil, Coconut Oil, Shea Butter, and Castor Seed Oil. The result is a perfect harmony of cleansing and enchanting scents that elevate your daily skincare routine.
Tailored for aging skin, this potent purifying soap offers soothing properties that promote a youthful appearance. With regular use, it gently evens out your complexion without stripping away precious moisture, leaving you with enviable, radiant skin.
Whether you're in your 20s, preserving your youthful glow, or in your 60s, seeking to turn back the hands of time, Tiffany's Turmeric Soap is designed for everyone. Embrace the true essence of beauty and experience the difference today with our Turmeric Soap!
Net Wt. 4 oz / 113 g

'
Ingredients: Olea Europaea Fruit (Olive) Oil, Cocos Nucifera (Coconut) Oil, Butyrospermum Parkii (Shea) Butter, Ricinus Communis (Castor) Seed Oil, Sucrose (Sugar), Maris Sal (Dead Sea Salt), Curcuma Longa (Turmeric) Root Extract