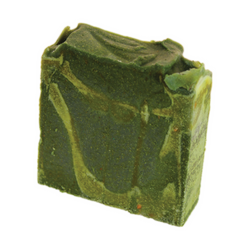 Step into the shower or bath and elevate your skincare routine to a whole new level with our extraordinary Pumice Citrus Scrub. Immerse yourself in the refreshing blend of natural pumice and zesty lime, designed to provide you with a revitalizing experience like never before.
Our gentle yet effective scrub is your go-to solution for removing stubborn dead skin cells and deeply embedded impurities, leaving your skin feeling exceptionally smooth and rejuvenated. Infused with the invigorating aroma of fresh citrus, this scrub will uplift your senses and invigorate your spirit.
Crafted with care and precision, our Pumice Citrus Scrub is handmade using traditional soap-making techniques, incorporating nourishing plant-based ingredients such as Olive Oil, Castor Oil, Coconut Oil, and Shea Butter, combined with Caustic Soda. To enhance the experience, we blend in pure lime essential oil and natural pumice granules, ensuring a comprehensive cleansing experience that pampers your skin.
It's time to elevate your skincare game and discover the unparalleled freshness that awaits you. Try our all-natural Pumice Citrus Scrub today and unveil a new level of cleanliness and vitality for your skin. Your journey to radiant and refreshed skin begins here!
Net Wt. 4 oz / 113 g


Ingredients: Olea Europaea Fruit (Olive) Oil, Cocos Nucifera (Coconut) Oil, Pumice, Butyrospermum Parkii (Shea) Butter, Ricinus Communis (Castor) Seed Oil, Sucrose (Sugar), Maris Sal (Dead Sea Salt), Citrus Aurantifolia (Lime) Oil, Blue 1, Yellow 5