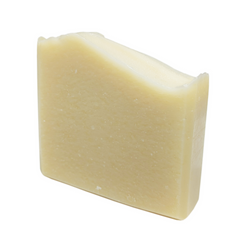 At the heart of our G.O.A.T. Soap Bar lies a commitment to quality that takes us to a local farm, where free-range goats graze freely. Their farm-fresh goat milk is the star ingredient that enriches our soap with a wealth of nutrients and essential fatty acids. This natural treasure is a cornerstone of your skin's health, forming a vital part of your skin's protective barrier. A little research will reveal the astounding benefits.
Our G.O.A.T. Soap Bar is more than just soap; it's a symbol of craftsmanship and dedication to timeless skincare traditions. Crafted by hand in the age-old tradition, we blend the finest plant-based fats with the farm-fresh goat milk, ensuring a gentle, bubbly lather that rinses away effortlessly.
Our soap-making process is an art, merging the highest quality Olive, Castor, Coconut, and Shea Oils, which are expertly transformed into soap through the precise use of Caustic Soda. But what sets our soap apart is the infusion of fresh farm goat milk, elevating it to a unique, luxurious experience that pampers your skin.
Embrace the G.O.A.T. Soap Bar and discover the essence of pure skincare luxury. Immerse yourself in the timeless tradition of farm-fresh goodness and let your skin bask in the nourishing embrace of our handcrafted masterpiece. Unveil the greatness of your skin with the G.O.A.T. Soap Bar today!
Net Wt. 4 oz / 113 g


Ingredients: Olea Europaea Fruit (Olive) Oil, Cocos Nucifera (Coconut) Oil, Goat Milk (Farm Fresh), Butyrospermum Parkii (Shea) Butter, Ricinus Communis (Castor) Seed Oil, Sucrose (Sugar), Maris Sal (Dead Sea Salt)