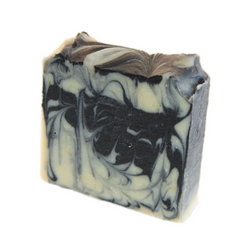 Introducing the Goat & Coal Face Bar: Your Secret to Balanced, Vibrant Skin!
Experience the epitome of luxury skincare with our Goat & Coal Face Bar. This extraordinary soap combines the finest farm-fresh goat milk and activated charcoal to deliver a deep, indulgent cleanse that leaves your skin feeling rejuvenated and perfectly balanced. Designed especially for oily skin types, this powerhouse blend is crafted with ingredients sourced from nature's bountiful kitchen.
We believe in quality from the source, which is why we journeyed to a local free-range goat farm to handpick the freshest goat milk available. This milk is naturally enriched with essential fatty acids and nutrients, providing your skin with the building blocks it needs for strength and plumpness. Paired with the luscious richness of olive oil, the nourishing properties of coconut oil, and the healing touch of shea butter, our Goat & Coal Face Bar offers an unmatched skincare experience.
The activated charcoal, a detoxifying marvel, works its magic by drawing out impurities from deep within your pores. Say goodbye to blemishes and clogged skin as you revel in the natural, purifying effects of activated charcoal.
Elevate your skincare routine with the Goat & Coal Face Bar and embrace balanced, vibrant skin like never before. Your journey to healthier, more radiant skin begins here!
Net Wt. 4' oz / 113 g
Ingredients: Olea Europaea Fruit (Olive) Oil, Cocos Nucifera (Coconut) Oil, Goat Milk (Farm Fresh), Activated Charcoal, Butyrospermum Parkii (Shea) Butter, Ricinus Communis (Castor) Seed Oil, Sucrose (Sugar), Maris Sal (Dead Sea Salt)