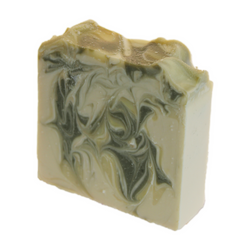 Revive Your Senses with EucalypMint Clay Soap!
Elevate your daily routine and embrace the rejuvenating power of our EucalypMint Clay Soap! Crafted with love and care, this soap boasts a harmonious blend of enriching ingredients, including Olive Oil, Coconut Oil, Shea Butter, and Castor Seed Oil. Immerse yourself in the soothing embrace of French Green Clay, as it infuses your skin with balance and vitality.
The sumptuous texture of this soap imparts a gentle exfoliating touch, offering deep cleansing while leaving your skin with a polished, radiant glow. As you lather, let the refreshing aroma of Eucalyptus and Spearmint essential oils envelop your senses. This invigorating fusion is expertly designed to awaken your mind, sparking newfound energy and clarity that stays with you throughout the day.
Our EucalypMint Clay Soap is a tribute to the revitalizing essence of nature itself. Every use is a reminder of the harmony between luxury and sustainability, as you indulge in an all-natural, environmentally conscious cleansing experience.
Recharge your spirit and renew your skin with this sensational soap, an essential addition to your daily self-care routine. Imbued with the restorative magic of Eucalyptus and Spearmint, it's more than just soap—it's an invigorating journey towards revitalization.
Net Wt. 4 oz / 113 g
Ingredients: Olea Europaea Fruit (Olive) Oil, Illite (French Green Clay), Cocos Nucifera (Coconut) Oil, Butyrospermum Parkii (Shea) Butter, Ricinus Communis (Castor) Seed Oil, Sucrose (Sugar), Maris Sal (Dead Sea Salt), Mentha Spicata' (Spearmint) Essential Oil