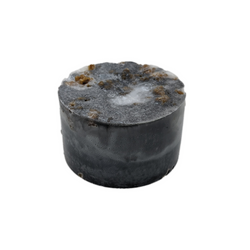 Elevate Your Beard Care Ritual with Driftwood Sea Beard Bar!
Experience the pinnacle of beard care with our Driftwood Sea Beard Bar – a product designed to elevate your grooming routine to new heights of quality and satisfaction. With each use, this beard soap and conditioner combination delivers the care and nourishment your beard craves, ensuring it remains soft, resilient, and impeccably groomed.
Crafted with a heavier oil base, our beard soap is a true ally in conditioning your facial hair, providing the essential nourishment required to keep it looking and feeling its best. Featuring a blend of rich fatty acids, glycerin, and plant butters such as Cocoa, Shea, and Mango, this soap is the ultimate solution for all your beard needs.
What sets our Driftwood Sea Beard Bar apart is the addition of a truly special ingredient – African Black Soap chunks. These remarkable chunks tackle even the toughest skin challenges, making this product an all-encompassing solution for your beard and skin.
 But there's more to this exceptional beard soap than just its nourishing qualities. Prepare to be enchanted by its unique and captivating scent – a symphony of sun-bleached driftwood, the invigorating sea salt air, and the misting essence of cypress trees come together to create a coastal storm of fragrance that will accompany you throughout the day.
 Elevate your beard-washing experience with the Driftwood Sea Beard Bar. It's not just a soap; it's a declaration of care, quality, and sophistication that will leave your beard feeling rejuvenated and smelling irresistibly fresh. Embrace the essence of the coastal wilderness and embark on a grooming journey like no other.
Net Wt. 4 oz / 113g

Ingredients: Aqua, Glycerin, Sorbitol, Sodium Stearate, Sodium Laurate, Propylene Glycol, Sodium Oleate, Sodium Myristate, Sodium Chloride, Glyceryl Mono Laurate, Cocamidopropyl Betaine, Teobroma Cacao (Cocoa) Seed Butter, Butyrospermum Parkii (Shea Butter), Magnifera Indica (Mango) Seed Butter, Sodium Thiosulphate, Sodium Citrate, Titanium Dioxide, Citric Acid, Trisodium Sulfosuccinate, Pentasodium Pentatate, Tetrasodium Etidronate, African Black Soap (Sodium Shea Butterate, Sodium Cocoate, Sodium Palm Kernelate, Coconut Carbon), Fragrance, Acid Black 2