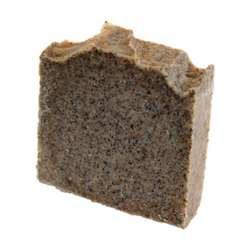 Elevate your daily shower routine with our invigorating NutMint Gent Scrub bar! Crafted to perfection, this all-over scrub bar delivers the ultimate freshness and cleanliness you've been craving. Its zesty, effervescent lather works its magic, gently exfoliating away dead skin cells while rejuvenating your body and spirit.
Handmade with care, our scrub bar boasts a rich blend of plant-based ingredients, including Olive, Castor, Coconut, and Shea Oils, along with Sugar, Dead Sea Salt, crushed Walnut Shell, and the uplifting essence of Peppermint Essential Oil. Prepare for a spa-like experience right in the comfort of your home. The crisp minty aroma adds a delightful touch to its remarkable effectiveness, leaving you simultaneously relaxed and revitalized – that's the epitome of double pleasure!
Elevate your daily showers to a whole new level with a scrub bar that can tackle even the toughest areas, like your feet. Achieve silky-smooth skin and enjoy the soothing benefits of aromatherapy, all neatly wrapped up in one delightful package. NutMint Gent is your key to a refreshing and invigorating shower experience like never before!
Net Wt. 4 oz / 113 g

Ingredients: Olea Europaea Fruit (Olive) Oil, Cocos Nucifera (Coconut) Oil, Juglans Regia (Walnut) Shell Powder, Butyrospermum Parkii (Shea) Butter, Ricinus Communis (Castor) Seed Oil, Sucrose (Sugar), Maris Sal (Dead Sea Salt), Mentha Piperita (Peppermint) Oil