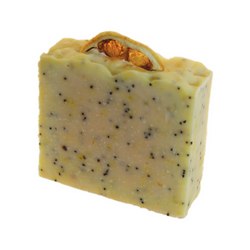 Elevate your daily shower routine with our Lemon & Poppy Seed Soap – a truly exceptional bathing experience awaits! We've meticulously crafted this bar of soap to provide your skin with a luxurious, spa-like treatment, and it's anything but ordinary.
Nourishing Elegance:
Our soap is a harmonious blend of premium ingredients, including Olive Oil, Coconut Oil, Shea Butter, and Castor Seed Oil. These natural treasures work in perfect synergy to pamper your skin, leaving it feeling deeply nourished, soft, and radiant.
Real Lemon Juice Infusion:
What sets this soap apart is the infusion of real Lemon juice. This invigorating citrus scent will awaken your senses, providing a burst of freshness that revitalizes your body and mind. It's the perfect start to your day or a rejuvenating pick-me-up anytime.
Gentle Exfoliation:
Lemon Zest and Poppy Seeds join the mix as gentle exfoliants. As you cleanse, these tiny wonders massage your skin, targeting pressure points and enhancing the soap's soothing properties. Your skin emerges baby-soft, with a renewed sense of vitality.
Crafted for Your Well-being:
Every aspect of this soap has been carefully curated and handcrafted into a beautiful, indulgent bar designed to provide you with the pampering you deserve. It's a testament to the art of bathing, turning an everyday ritual into a luxurious experience.
Elevate your shower routine and embrace the refreshing allure of our Lemon & Poppy Seed Soap. With each use, you'll discover a new level of indulgence, leaving your skin beautifully nourished and your spirit rejuvenated. It's not just soap; it's an invitation to pamper yourself daily.
Net Wt. 4 oz / 113 g
Ingredients: Olea Europaea Fruit (Olive) Oil, Cocos Nucifera (Coconut) Oil, Citrus Limon Fruit Extract, Butyrospermum Parkii (Shea) Butter, Ricinus Communis (Castor) Seed Oil, Sucrose (Sugar), Maris Sal (Dead Sea Salt), Citrus Aurantium Dulcis Peel, Citrus' Limon Peel Extract